Datacenter in Madrid, Spain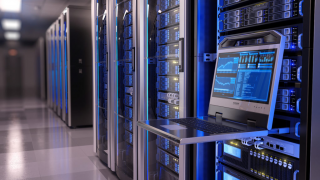 Our Madrid International Business Exchang (IBX) data centers are the most connected and carrier-neutral facilities on the Iberian Peninsula. They offer cloud connectivity with a small carbon footprint to 45+ providers.
Flexible Capacity
Equinix Madrid IBX data centers accommodate single-cabinet deployments or multimegawatt installations with flexible configurations and power densities and resilient power supplies.
Power
Our power systems include full Uninterruptible Power Supply (UPS) systems with N+1 redundancy levels or greater and backup generator systems in the event of a local utility failure. In case of a power outage, batteries turn on immediately, followed within 8 seconds by the generators which can power the entire data center.
Certifications
Equinix data centers are certified to meet rigorous energy management standards that enable smooth and efficient operations.
Green by Design
At Equinix, we design, build and operate our data centers with high energy efficiency standards and a long-term goal of using 100% clean and renewable energy for our global platform.